Stock up on vitamins and exotics before December with this week's recipe for coral lentil soup with coconut milk and curry croutons!
Originally published on December 1, 2011
Soups are life. Especially when it is winter, the sun shines for 35 hours and the body needs vitamins. And I'm not talking about Liebig pouches, eh, but good homemade soups, with chunks and mixed-vegetable-green-vomit color that you can't find in the store.
Read also: Soup combinations that work every time
Coral lentil soup, coconut milk and curry croutons – recipe
And the great thing about soup is that if you make a pot of it and cook and stir the vegetables for 20 minutes, you'll have enough to eat for days. On the first day a bowl, on the second day boiling water for risotto-type rice, on the third day with eggs, flour and milk to make a quiche or flan and the rest in several bags in the fridge. hungry nights. The only problem is sometimes a lack of imagination or an overflow of ingenuity. One day a friend mixed leftover tartflettes with water to make soup, it was awful. Head over to Annelise's article for ingredient combination ideas.
Read also: Fall fruits and vegetables that reconcile me to grayness
This week you can't go wrong with coral lentil soup with coconut milk and curry croutons!
Ingredients for 4 people:
300 g of coral lentils
tomato concentrate
stock cube
onion
a clove of garlic
20 cl of coconut milk
bread
olive oil
curry, salt, pepper
Recipe:
Finely chop the garlic and onion and brown them in a large pot in a little olive oil for 3-4 minutes.
Then add the lentils, 3 tablespoons of tomato puree, a stock cube and a liter of water, then cook on medium heat (slightly boiling) for about twenty minutes.
During this time, take care of the croutons: cut a slice of bread per person into small cubes, place them in a small tall container (such as a muffin tin, mini tin or something so that they pile up, otherwise they will collapse). burn and not dry).
Sprinkle a little olive oil and curry on top, then place in the oven at 200°C for 20 minutes.
When the lentils are cooked, pour over the coconut milk. You can also extend with water if you don't find it liquid enough.
Then run through a light blender or leave as is, then enjoy with some croutons!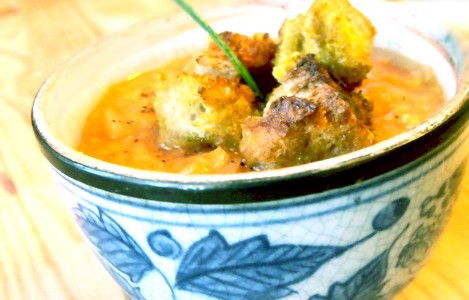 For this winter soup recipe, I chose coral lentils, which are full of vitamins, iron, protein and fiber, full of useful things to properly prepare for the Christmas orgy! Its flavor goes very well with coconut milk for its sweetness and exoticism, while homemade croutons add a crunchy and spicy touch!
Enjoy your lunch!