pumpkin? With its beautiful orange color and sweet chestnut flavor, it is one of the must-have vegetables for fall. It is traditionally cooked in soups and stews, but it can also work wonders in many recipes. And it is not Cyril Lignac who says otherwise. Its kitchen sticker, delivered daily RTL Morning, the chef introduced his amazing method of preparing pumpkin: papillote. A healthy cooking technique that is widely used, especially for fish. After baking the vegetable for an hour in the oven, Cyril Lignac prepares it with an original preparation full of flavors based on cream cheese and fine herbs. And not to spoil anything, the chef reuses the pumpkin seeds in another recipe: he roasts them before mixing them with salt and curry. A quick and perfect creation for an aperitif.
Tempted by this original pumpkin recipe?
Here is Cyril Lignac's recipe for pumpkin and papillote with cream cheese and fine herb sauce:
Ingredients:
1 pumpkin squash
35 g of butter
15 g of white almonds
15 g pistachios
15 g blanched hazelnuts
A few sprigs of coriander
A few sprigs of flat-leaf parsley
Olive oil
powdered sugar
Fine salt and ground pepper
salt flower
For the cream cheese:
250 g of cream cheese
1 shallot, peeled
A few sprigs of chopped dill
Juice of 1 lemon
Fleur de sel and ground pepper
Espelette pepper
Heat the oven to 190°C.
Cut the pumpkin in half.
Optional: Collect the seeds. Roast them on a baking sheet. Then coat them with a mixture of salt and curry.
Cut the vegetable into large slices.
Place the slices on a sheet of aluminum or baking paper with butter, a little sugar and fine salt. Form the foil and close with a clip.
Bake for 1 hour at 190°C.
Prepare the cheese sauce: mix the cream cheese with lemon juice, salt, pepper and Espelette pepper. Add peeled shallots, chopped dill and lemon juice.
Arrange the pumpkin pieces on a plate. Place chopped and roasted hazelnuts, almonds and pistachios, chopped coriander and parsley on top. Serve cream cheese on the side.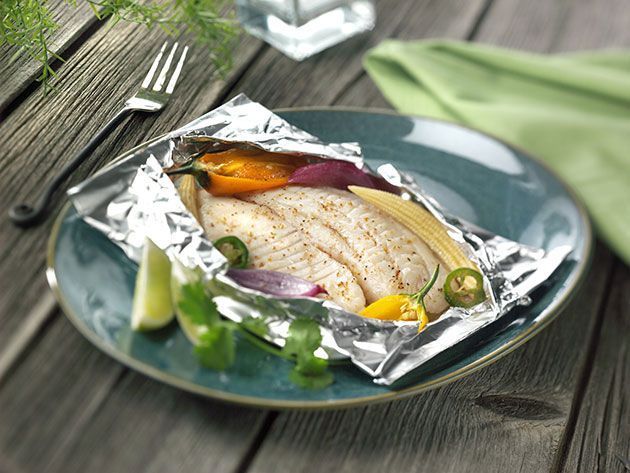 Foil is often used to cook meat or fish.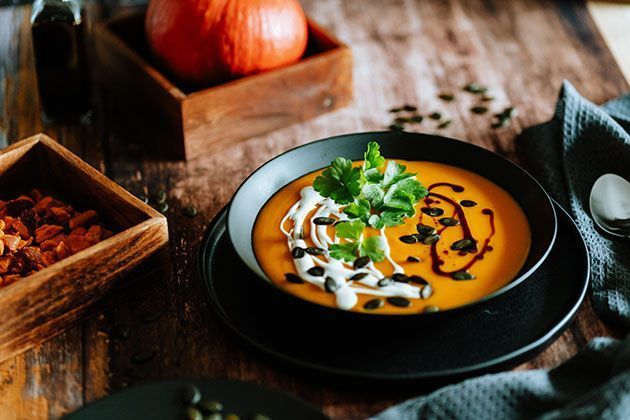 Traditionally, pumpkin is boiled into soup.